Roof Replacement & Installation in Dallas, San Antonio, & Nearby TX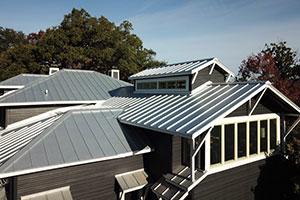 Minimal disruption. During your re-roofing project, we ensure that your house and landscaping will be properly protected.
Whether you have an urgent need for a new roof or your roof is too worn to properly protect your home, we can help. The top reasons for needing a new roof include leaks, wind damage, storm damage, and damage from fallen trees. A new roof can also increase your home's value. If you are building a new home and need a roof installed, we can help with that too.
For help with your roof repair or re-roofing project, we recommend scheduling an on-site consultation, which includes a free roofing estimate. We can guide you through the process and make sure you get the best solution for your home. If you do need a new roof, our roofing specialists will help you choose the right shingle or roofing material to match the style of your home.
Call us at 1-844-620-1450 or click below to request your free on-site estimate! We provide roofing services in Dallas, San Antonio, New Braunfels, and throughout Texas.
Before and After
Before

After

This roof was the original roof and was referred to us from a previous customer. We took the old shingles off which had blistering and thermal cracking all over and replaced with Rhino Roof Synthetic Underlayment, Ice and Water Barrier and Owens Corning 30yr Laminate TruDefinition Shingles. The complete Owens Corning System!

Before

After

This customer needed to get their roof done quickly before their time ran out with their insurance company and we were able to get them worked into the schedule right away to relace their roof.

Before

After

Our customer Had an old 30 year laminate shingle that had damage. The insurance company bought the roof and we replaced it with Owens Corning Tru Definition 30 year Driftwood Shingles.

Before

After

The roof was an old 20 year 3-Tab Shingle before we replaced it with an Owens Corning 30 year Laminate Shingle. We found a few areas with rotted wood decking. We replaced and re decked the old vent holes to install Owens Corning Ridge Vent for optimal ventilation. If your roof is getting old or may have been damaged in the recent hail storms, call us today for a free inspection!!

Before

After

This roof was high and very steep. Getting material on this roof with all the trees and elevations of the property was another challenge in itself. But, at Premier Roofing and Contracting, we LOVE challenges. The homeowners of this beautiful house do a lot of intertaining for the local university they run and it was our pleasure to be able to take care of their roof replacement!
Dark streaks on an asphalt roof. Algae & moss growth on the roof not only looks bad, but it can also lead to roof damage.
Signs that you might need a new roof
The roof is at least 20 years old
The roof looks old and worn
Dark stains from algae
Moss growth on shingles
Curling or cracked shingles
Bald spots where granules are missing
If your roof is old or you've noticed signs of a roof problem, we can assess your roof to determine if it's time for a re-roof and provide you with a free inspection and estimate for replacement or the services you need.
We offer a variety of roof material options
In addition to helping better protect your home, a new roof can also increase value and give your home's exterior a fresh look. We have roofing materials, styles, and colors to match almost any home.
Three-tab asphalt shingles
Architectural shingles
Wood shakes & shingles
Slate shingles
Clay & concrete tiles
Metal roofs, such as standing-seam, shingles & interlocking panels
Products
Owens Corning is one of America's most trusted and recognized roofing brands. Owens Corning Roofing Preferred Contractors are part of an exclusive network of roofing professionals who meet high standards and strict requirements for professionalism and reliability.
Owens Corning Roofing Options
Owens Corning offers a wide variety of shingle options, all of which meet the highest standards of quality, durability, and appearance. The three main categories are architectural, specialty, and traditional shingles. Architectural shingles are available in many lines, including TruDefinition Duration Shingles and Oakridge Shingles. Similarly, specialty shingles include Devonshire Shingles, Berkshire Collection Shingles, Duration Premium Cool Shingles, and TruDefinition Duration Storm Impact Resistant Shingles.
Benefits of Owens Corning shingles:
A variety of color choices
Energy efficient options
Extensive warranties
Strong and durable
Owens Corning Platinum Protection Warranty
Owens Corning provides the best warranty in the industry, including:
50-year transferable warranty that covers all materials and labor for repairs
15-year wind and algae warranty
Lifetime workmanship coverage
Roofing Shingles
GAF offers three distinct levels of shingle quality and protection, plus a remarkably affordable slate shingle option. We'll help you select the one that is right for your home's design and location.
Three-Tab (3-Tab) Shingles
Affordable basic protection for projects on a limited budget.
Timberline® Lifetime Shingles
Protect and beautify your home with Timberline®, North America's #1-selling shingles. Timberline® shingles now have a lifetime limited warranty!
Designer Lifetime Shingles
Beautiful, stylish, and exceptionally durable, Designer Lifetime shingles will make your home the envy of the neighborhood!
Headquartered in Valley Forge, PA, CertainTeed is a leading North American manufacturer of building materials and specializes in the production of high quality roofing and other materials including vinyl siding, trim, fence, railing, decking, insulation, gypsum, and ceiling products.
Many homeowners choose CertainTeed for their home installation or remodel. Here's why:
A broad selection of over 40 fade resistant colors to choose from
Shake and Shingle siding comes in a variety of blends and textures to achieve the style you want for your home
CertainTeed TrueTexture products are regarded as the most authentic wood look in the industry
Over 400 roofing options
Products are low-maintenance and long-lasting
CertainTeed Asphalt Shingles
CertainTeed manufactures a variety of high quality, durable asphalt roofing systems. Asphalt roofing shingles are the most commonly used covering on residential properties in the market. Asphalt's primary purpose in roofing shingles is to serve as a waterproofing agent. Asphalt also holds the granules in place and adds to the overall strength of the roofing shingle. The best asphalt will stay flexible and will not dry out or become hard or brittle for the expected life of the roofing shingle.
Strip Asphalt Roofing Shingles
Strip asphalt roofing shingles are single-layered asphalt roofing shingles typically designed to look like slate. Strip roofing shingles are usually the lightest weight asphalt roofing shingles available in the market. Built on a tough fiberglass base, each shingle provides resistance to blow-off and tearing.
Dimensional Asphalt Roofing Shingles
Dimensional asphalt roofing shingles are manufactured as multi-layered products and provide a thicker and richer appearance on the roof (a multi-dimensional look). Dimensional roofing shingles typically are heavier weight than strip roofing shingles and usually have improved warranty protections, which can range from 30-years to Lifetime.
Premium Asphalt Roofing Shingles
Premium asphalt roofing shingles are usually described as laminated shingles that have a differentiated appearance or functionality from traditional dimensional asphalt roofing shingles. These products may have designs that mimic "old-world" roofing shingles, like natural slate or natural shake roofing shingles. CertainTeed's Grand Manor™, Presidential Shake™ and Centennial Slate™ shingles are prime examples of premium roofing shingles that provide an enhanced aesthetic appeal.
Installing a new roof can be cheaper in the long-term
While replacing damaged shingles is inexpensive, the downside is that the replacement shingles may not match the existing roof. If you have more significant damage that is confined to one side of the roof, partial reroofing is an option but can cost more in the long term. If an asphalt roof already has two or more layers, all layers will have to be removed before completing the partial re-roofing. If your roof needs to be replaced, you'll have to decide whether to install the new roof over the existing one or tear the old one off. A complete re-roof ensures that water-damaged sheathing will be found and repaired, preventing future issues. Our contractors will recommend the best options and provide a free quote for your project prior to beginning any work on your home.
Ready to schedule your roofing estimate?
Contact us today to schedule your free on-site estimate with a professional from Premier Roofing and Contracting. We are your expert roofing contractor serving New Braunfels, Dallas, San Antonio, Universal City, Austin, San Marcos, Alamo Heights, Schertz, Cibolo, Helotes, and many surrounding areas.